ACTIONABLE, SUPPORTIVE WORKSHOP + TEMPLATE BUNDLE
Boost your confidence as you manage employees that are underperforming - creating opportunities for growth, a better relationship and (of course) better performance.
GET INSTANT ACCESS NOW: $200 USD >>
DOES THIS SOUND FAMILIAR?
You're a leader, managing people and everything seems to be going ok...
... but there's just one challenge.
You've got someone on the team who isn't meeting expectations.
Maybe they aren't keeping up with their deadlines.
Maybe the quality of the work just isn't there.
Maybe their attitude is rubbing people the wrong way.
WHAT'S A LEADER TO DO?
How can you confront this negative issue and get positive results?
Are you avoiding it because you aren't sure what to say?
Are you hoping it will fix itself?
The challenge really is about relationships and performance isn't it? Because on one hand, you have to protect your business and your team - you can't afford to have someone that isn't pulling their weight or that is dragging the team down emotionally either. BUT on the other hand, you may really respect this person, or you aren't confident in how to approach this and how to handle conflict if it happens.
DON'T WORRY - I'VE GOT YOU!
Turning performance around can be an enjoyable process ( I know, sounds crazy right).
Let me introduce a system that actually works.
A step-by-step, simple guide that allows you to gauge the risk and growth of your employee at each stage so that you feel confident knowing you're making the right moves at the right time.

A "this is exactly how to say it" way to position the feedback so that it's clear you are here to support - not pick holes in someones work or their approach.

A feedback process that creates opportunities for supported growth in a way that protects your relationship (and should actually make it better) - more honesty sound good?

A framework that helps you secure the best possible outcome for you, your business, your team and your employee.
Feedback Loop
WORKSHOP 1
Create clarity on what's happening and collaboratively build the opportunity for growth.
Foundations of PIP
WORKSHOP 2
If you need to escalate, here is everything you need to create a formal Performance Improvement Plan (PIP).
Future Focus
WORKSHOP 3
Let's walk through how to move forward after the PIP, no matter the outcome.
LET'S PEEK INSIDE THE COURSE
How does it work?
MODULE 1
So you've identified a performance issue - let's deep dive into it and figure out the best way for you to progress. We'll create and plan your feedback discussion, and then guide you through the Feedback Loop process where you work collaboratively with your employee to lift performance (yay!).
BONUS WORKBOOK INCLUDES:
Underperformance Clarity Table template
Risk Assessment
Feedback Planning template
Performance Assessment and Debrief discussion template.
Mini-cheat sheet for Feedback Loop process.
MODULE 2
80% - 90% of your employee performance issues can be fixed by the Feedback Loop (Module One). For the situations where your employee isn't able to lift their performance after a feedback loop, then you can choose to progress to a more formal Performance Management process - called a Performance Improvement Plan (or PIP for short). This module helps you set up a PIP, and provides guidance on how to manage the discussion including yourself and any emotionally charged situations that may arise so that you can confidently lead the process.
BONUS WORKBOOK INCLUDES
Support system guide.
Outcome Planner template
Discussion preparation checklist.
Discussion framework template with examples.
Performance Improvement Plan document template.
MODULE 3
It's time to come out of the PIP and create a positive, uplifting and high performance future. We review the outcome of the PIP, what it tells you about the effort and potential of the employee and assess how to move forward and support your team throughout.
BONUS WORKBOOK INCLUDES
Interim Review Meeting Agenda template.
Outcome Assessment template.
Final PIP Meeting Guide.
Hey I'm Victoria!
You can call me Torz or VB. I help new and emerging leaders bust through all the leadership BS, and become please-let-me-work-for-you baddie #bosses.
I run Brighten Project, a leadership coaching and consulting business.
After an 18 year career working on incredible brands (like Air New Zealand, Village Roadshow, BBC and Swarovski) where I've led awesome teams and worked with jaw-dropping talent all over the world - now I'm obsessed with helping new leaders who want to do things differently. Leaders who want to smash through ceilings and do even more epic sh*t (but aren't super inspired by boring leadership programs and don't want to sit around and *wait* for the leadership experience to come).
I love sharing all my experience and tools to help other leaders create epic teams, lead with conviction and kindness and passion - and enjoy every second (even the tough ones).
THE HELP YOU'VE BEEN WAITING FOR
Let's do this!
This workshop and template bundle is designed to upskill you quickly and effectively so that you can start addressing underperformance immediately.
START MANAGING UNDEPERFORMANCE NOW: $200 USD >>
Who is this for?
From Problem To Performance is perfect for anyone managing a team, and doesn't feel confident in how to address underperformers. The workshops and templates are designed to give you:
CLARITY. You know exactly what to do, what to say and how to say it to strengthen relationships with your employees while still coaching them to lift their performance.
CONFIDENCE. Learn from my experience leading teams for ten years, I know how to position feedback, how to lead discussions and how to understand exactly what is happening and the risk to your team and your business if you don't do anything.
IMPACT: Managing performance is a crucial part of leadership, it shows others how you value the whole team, how you treat vulnerability and what you prioritise. It's your responsibility to get the best outcome for your team, your business and your employee.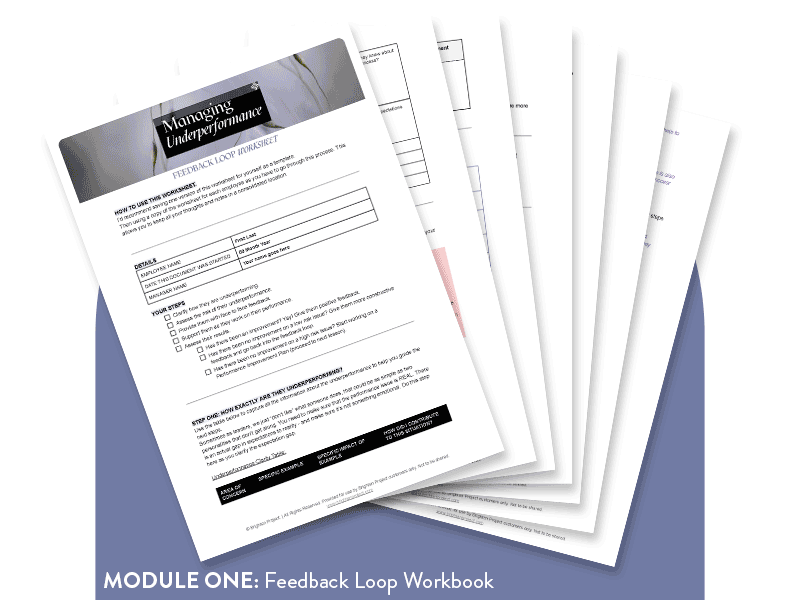 YOU'RE SET UP TO SUCCEED
Feel confident with these "exactly what to do and how to do it" workbooks.
Every module comes with a workbook that walks you through the module content, and provides templates, guided notes and examples so you can take everything and make it practical and actionable.
BUT, HOLD ON
Can I just wait for the employee to improve on their own?
Nope, this is your job.
This is your job, to support and coach your employees to grow and develop and perform. Don't shy away from this process, once you do this a few times, you'll become comfortable and then the impact you can have will be incredible as you coach and support your people.
This is also a wonderful opportunity for you to grow as a leader, and learn these new crucial skills.
You have value to offer.
As a leader, you can provide a different perspective to your employee. You can help them understand how they contribute to the overall results of the team, and help create inspiration and motivation for change. You can also lend your experience and insights to help them grow and learn. This will help your employee so much more than you just standing back and expecting them to figure it out on their own.
FAQ
Still got some questions?
But i'm really nervous about this process.
What about HR and Legal obligations?
How long should this process take?
What happens if they don't improve?
It's time to start creating change!
Imagine how incredible you're going to feel to get this process started?
Imagine how amazing and proud you'll be if you started seeing changes in your employee as early as tomorrow?
Imagine how much better your team, your mindset, your business will be if you had someone in that role who was delivering what was expected of them?
START THE PROGRAM NOW: $200 USD >>